---
BL615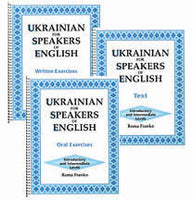 Kit includes textbook, oral exercises workbook, written exercises workbook, and pronunciation guide CD.
Ukrainian for Speakers of English is intended for individuals who have no knowledge of Ukrainian. It is suitable for university students, senior high school students, and adult learners in a home study situation. All of the material is presented from the point of view of a student who knows how to speak English, but who may not know the formal rules of English grammar. Before a new point in Ukrainian grammar is introduced, students are first reminded about what they know, either formally or informally, about a similar structure in English.
The grammar explanations in this text are brief and simple; they convey only as much information as a student can be expected to assimilate in the early stages of learning a second language. Numerous examples, summaries, and charts are included to assist the learner. The systematic organization of the material ensures that students acquire the ability to use the language competently. Successful completion of the program lays the foundation for further formal and informal acquisition of the language, and for the study and enjoyment of Ukrainian literature.Kit includes: Ring bound Textbook 408 pages, Oral Book 216 pages, Written Exercise Book 170 pages and 1 Pronunciation Guide CD 60 minutes.