---
BJ163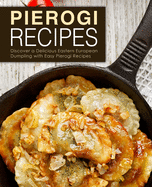 Come take a journey with us into the delights of easy cooking. The point of this cookbook and all our cookbooks is to exemplify the effortless nature of cooking simply. The book focuses on Pierogi. Pierogi Recipes is a complete set of simple but very unique alternative dumpling recipes. You will find that even though the recipes are simple, the tastes are quite amazing.
Here is a Preview of the Pierogi Recipes You Will Learn:
Pierogi Lunch Box
30-Minute Polish Pierogies
Breaded Pierogies
Downstate Pierogies
Upstate Pierogies
Pierogi Milanese
Velveeta Lasagna
Homemade Pierogies Dough
5-Ingredient Pierogies
Turkish Pierogies
Pennsylvania Pierogies
Vegan Pierogies Dough
Seafood Pierogies
Bacon Pierogies
Pierogies Parm
Portuguese Pierogies
6-Ingredient Pierogies
Picante Pierogies
How to Make a Pierogi Gratin
Spicy Crab Pierogies
Garlicky Semolina Dumpling Pierogies
Much, much more!
Again remember these recipes are unique so be ready to try some new things. Also remember that the style of cooking used in this cookbook is effortless. So even though the recipes will be unique and great tasting, creating them will take minimal effort!