---
PSC34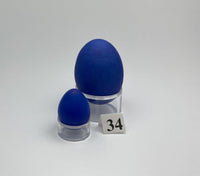 STRONG WARNING.IMPORTANT PLEASE READ. This is a true blue color it has NO teal tones. 
Caution this color has a very short true blue use life.
 Due to customer demand, it is the only reason I keep this color in the line. When using True Blue it will give you the best true blue color for the first few uses, but it then will drop to a dusty denim shade. It is a good idea to hold back eggs that you want to use this color on, and mix a fresh batch, then do them all at once. This color is for the professional artist that does not mind replacing it when needed. It is wise to keep a few packs on hand for that special blue color from a fresh batch. Truly a good investment.. 
ORDER AT YOUR OWN RISK NO REPLACEMENTS!