---
BG275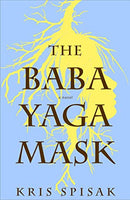 Sale
When their Ukrainian grandmother is lost on a trans-Atlantic Flight, two sisters are swept into a quest across eastern Europe to find the woman who had always told more tales than truths.

From Poland to Slovakia to Hungary and beyond, Larissa and Ira navigate the steps of Ukrainian folk dance, the cliff-side paths of Slovak Paradise National Park, and the stark realities of war, folktales, and feminism, all for the sake of chasing who they're starting to believe is a true Baba Yaga. Understanding their family's roots has never been more clear.

The setting's mythic properties drift like ghosts in the humid air, hinting of the folktales the sisters whisper like codes of bravery. The nesting dolls they discover reveal how each woman becomes stronger when tucked one, within another, within another—forgetting lies and truths to seize upon history, love, and the familial traditions that have shaped them into who they are together.